Bowling Party Options
Liberty Lanes is the perfect place for any party or get together. We have party packages for the young and the young at heart. Check out our packages below:
Reservations are required for all parties.  Call (727) 397-3947
1. All party packages are available 7 days a week.
2. A $25 non-refundable deposit is required to reserve all parties.
3. Parties are scheduled in consideration of our League Bowling.
4.  All parties wanting to utilize our "Glow Bowling" Laser Light Show should schedule their event for either Friday or Saturday starting at 9 or 9:30pm
Kids Bowling Party Packages
Liberty Lanes is the best place to celebrate just about anything! From birthdays to your end of season celebration – we've got you covered. Check out our packages below and give us a call to reserve a spot.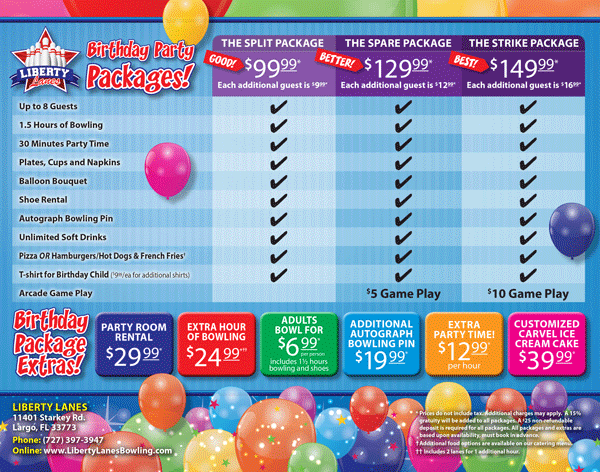 Make your birthday extra special with GLOW BOWLING! Our Glow Bowl Birthday package includes everything from The Strike Package but with 3 hours of Glow Bowling for only $199.99 (each additional guest is $22.99).
Adult Bowling Party Packages
Are You "Just a Big Kid"? Ask us about our customized adult parties!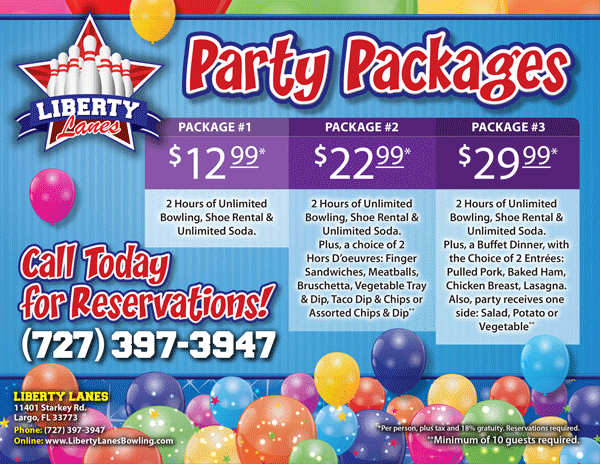 Company Bowling Events
Liberty Lanes is the perfect venue for your next company outing.  Bowling enjoys widespread appeal – everyone can do it and you don't have to bowl like a pro to have fun!  It is reasonably priced, everyone can play, and it is not influenced by the weather.
A company bowling party will help you improve company morale, enhance communication skills, and promote teamwork and sportsmanship.
Bowling parties help promote: friendly competition, morale, enhance job performance, and improve employee relations.
Call us today to set up your outing:  (727) 397-3947